Lube Sticker Printer
Configuring the Lube Sticker Printer
Open the Report/Printer dialog box by selecting Configurations then Reports/Printers/Lube Sticker. You can also open this screen by clicking File and choosing Print Setup. The Report/Printer Selection dialog box displays.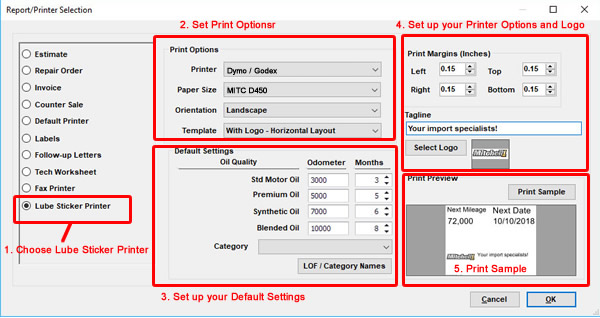 1. Click the Lube Sticker Printer option.
2. Set your Print Options to match the Printer and Paper Size you desire.
Note: You must first setup your sticker printer and make it visible on your network for it to appear on the Printer list.
3. Set your Default Settings. These are the settings that will display when launching the Print LOF option from the Order tab.
Note: The LOF/Category Names are the same ones used in your LOF packages.
4. Setup your Print Margins, Tagline, and Logo
Print Margins - manually adjust margins. Settings will automatically adjust to fit best based on the selected paper size.
Select Logo - browse and select logo image file. Maximum file size is 98 KB.
5. Print Preview/Print Sample
Changes to the sticker template will display in real-time in the Print Preview section.
Click Print Sample to print a sample of how your sticker will look. Adjust your print margins as needed to ensure proper alignment.
Printing the Lube Sticker
To Print the Lube Sticker
1. Select Print LOF from within the Order Panel. Alternatively, you can print the sticker from within the Order Options screen by selecting Print LOF Sticker.
The Print Sticker dialog box displays.
2. Choose the quality of oil and click OK.
Once you have printed the sticker, you will be prompted for a future appointment in the Scheduler.

3. Click Yes to schedule the appointment.
This creates a vehicle recommendation. A future appointment is generated based on the date and milage of the selected Oil Quality. Click Save & Close to save the appointment.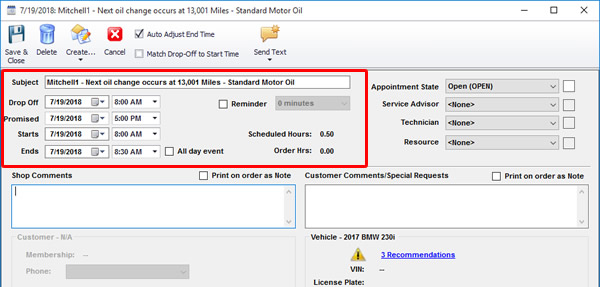 4. Click Save & Close to save the appointment.